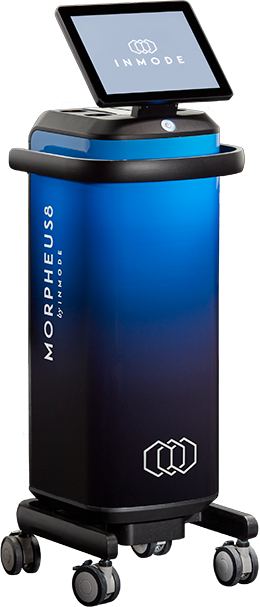 Morpheus8 Radio Frequency Microneedling is a safe, effective, and minimally invasive skin rejuvenation procedure that combines radio frequency technology and microneedling. Morpheus8 treatments address a variety of skincare concerns such as loss of elasticity, uneven skin texture, fine lines and wrinkles, sun damage, and acne scarring. Using radiofrequency technology, Morpheus8 stimulates collagen production to tighten and smooth areas on the face and body. Simultaneously, tiny needles penetrate the skin at deeper levels than other microneedling treatments, heating the deeper layers of tissue to produce collagen and restore more youthful skin.
The procedure is quick and relatively painless. To ensure your comfort, a topical numbing cream will be applied to the treatment area. When the procedure begins, you may feel a slight prickling sensation followed by a feeling of warmth as the needles pass over your skin.
To help promote skin healing, platelet rich plasma (PRP) may be used on the treated area after your Morpheus8 session to enhance both healing and efficacy. PRP is a natural component of your blood that contains a high concentration of growth factors. If PRP is used in your case, one of our nurses will draw a small amount of blood and spin it in a centrifuge causing the blood components to separate. The PRP is collected and applied to the top of your skin.
Morpheus8 is a minimally-invasive procedure, so there is not much recovery time. Immediately after treatment, you may see a small amount of pinpoint bleeding from the microneedles, but this resolves quickly. Your skin may be mildly itchy, pink, and swollen for several days. Our staff will recommend medical grade skincare and sunscreen to use after the procedure. Typically, a series of treatments spaced four to six weeks apart is required for best outcomes and maintenance treatments are recommended.
Most notably, Morpheus8 can safely be used on all skin types and tones, addressing a broad range of concerns. This procedure is a safe option for people with dark skin tones who may be at risk of pigmentation changes from other skin resurfacing treatments, like lasers. Morpheus8 can be used on any area of the body, but is most commonly used on the face, jawline, and neck. Other common areas of use include the abdomen (belly), knees, buttocks, and others. This treatment is often performed in conjunction with other procedures to achieve optimal rejuvenation and contouring results.